Address
Peterborough Office
466 George Street North
Peterborough, ON K9H 3R7
Kawartha Lakes Office
33 Lindsay Street South, 2nd Floor, Unit C
Lindsay, ON K9V 2L9
Administrative Office (Ontario Telemedicine/Early Psychosis Intervention)
415 Water Street
Peterborough, ON K9H 3L9
Telephone
Peterborough – (705) 748-6711 or 1 (866) 990-9956
Kawartha Lakes – (705) 328-2704 or 1 (888) 454-8875
Administrative Office – (705) 748-6687
Fax
Peterborough – (705) 748-2577
Kawartha Lakes – (705) 328-2456
Administrative Office – (705) 748-4078
Email
Office Hours
Monday to Friday
9:00am – 4:30pm
Complaints & Concerns
For information on our complaints and concerns procedures, please click here.
Contact Information
Executive
Mark Graham, Chief Executive Officer
Tel: (705) 748-6687 ext. 1008
email: mgraham@cmhahkpr.ca
Linda Saunders, Director of Corporate Services
Tel: (705) 748-6687 ext. 1006
email: lsaunders@cmhahkpr.ca
Maggie Stephens, Director of Programs and Services
Tel: (705) 748-6711 ext. 2053
email: mstephens@cmhahkpr.ca
Gord Langill, Director of Programs and Services
Tel: (705) 748-6711 ext. 2022
email: glangill@cmhahkpr.ca
Managers
Jennifer Bain, Manager of Supportive Housing
Jeff Cadence, Manager of Crisis Intervention Services
Christine Crough, Manager of Peer Initiatives and Employment Supports
Tracy Graham, Manager of Specialized Crisis Services and Clinics
Mobile Crisis Intervention Team (with Police)
Dual Diagnosis Outreach Worker
Urgent Response Case Management
Crisis Response Network Coordinator
(705) 748-6711 ext. 1043 | tgraham@cmhahkpr.ca
David Haw, Manager of Lynx, Early Psychosis Intervention
Jonathan Hewitt, Manager of Justice Services
Patrick Lindsay, Manager of Safety & Social Enterprise
CJ Pudsey, Manager of Human Resources
Paul Schauber, Manager of Case Management and Intake
Pam Scholey, Manager of Quality & Communications       
Marnie Sicker, Manager of Financial Services
Jack Veitch, Manager of Community Engagement & Education
Shari Warfield, Manager of Dual Diagnosis Services
---
Contact Form
For general enquiries, please use the form below: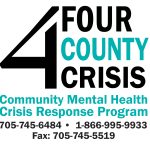 If you are in crisis please call 705-745-6484 or toll-free 1-866-995-9933. By phoning these numbers, you can access 24-hour, free, confidential crisis support.