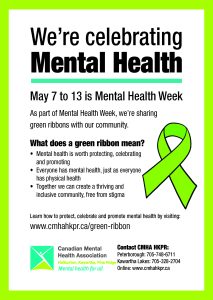 Join us this Mental Health Week, May 7 to 13, 2018  in protecting, celebrating and promoting mental health for all!
Here's how:
Protect
Celebrate
Wear your green ribbon proudly! Get your green ribbon at the following locations or by contacting us directly at 705-748-6687
May 4. Lindsay Square. 2 – 5pm
May 4. Gilmers Home Hardware, Port Hope. 4 – 7pm
May 5. Lansdowne Place. 9:30am – 6pm
May 5. Fontaine Source for Sports. 1 – 4pm
May 7. Corus Corner (King and George).  8 – 9:45am
May 9. Peterborough Square. 11am – 2pm
May 11. Nexicom BBQ. 5 King St E, Millbrook. 12 – 2pm
May 12. Leon's Bike-a-Thon. 11am – 3pm
May 7-12: Merrett Home Hardware at the checkout all week
May 7-12: Brant Basics at the checkout all week
Join or organize a team for our Ride Don't Hide event on June 24th 2018, supporting C.M.H.A. H.K.P.R.'s Four County Crisis Safe Beds Program
If you're a golfer, join us for our 13th Annual Healthy Mind, Healthy Life Golf Tournament, presented by Kevan and Roberta Herod of Herod Financial Services on June 15th 2018
Share your mental health story with others
Promote
Mental Health Week is just one week of the year, but our mental health matters every single day. Let's work together to make Mental Health For All a reality. Thank you for your support.