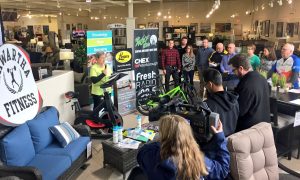 The Canadian Mental Health Association Haliburton, Kawartha, Pine Ridge (CMHA HKPR) is pleased to provide details on the Third Annual Ride Don't Hide for Mental Health, presented by Leon's Peterborough, taking place June 24 at Nicholls Oval, 725 Armour Road. The proceeds of this year's ride will again stay local, supporting CMHA HKPR's Four County Crisis Safe Beds Program. Many thanks to Leon's Peterborough as presenting sponsor.
Riders can register for a 4k, 12k or 26k easy ride along the Rotary Trail at http://ridedonthide.com/on/ride/peterborough/ as teams or as individuals. Register before April 30 at the Early Bird Rate of $35 per person and you are guaranteed a t-shirt. After April 30, register for $45. Organizers will make every effort to have t-shirts for late registrants. Children 12 and under register free. Cost of their t-shirt is extra. No need to get on a bike, you can support the fundraising portion of the event by registering as a virtual rider. There is no cost to register as a virtual rider.
All riders must check in between 9 and 9:45 a.m. including day-of registration. Rides leave the park between 10 and 10:20 a.m..  A barbecue lunch, sponsored by Smokey Joe's, wraps up the event. The Top Adult Fundraiser will receive a 21-speed Norco Yorkville Comfort Hybrid bike and the top Child Fundraiser will receive a 24" Norco Storm Child's Bike – donated by Bronze Sponsor Fontaine Source for Sports. The Top Corporate Fundraising Team will enjoy dinner for eight, compliments of Publican House Brewery.
Can't make the June 24th event? Join CMHA HKPR at Leon's Peterborough, 1731 Landsdowne Street West on May 12 from 11 a.m. to 3 p.m. as Leon's hosts the Ride Don't Hide Bike-A-Thon at as part of CMHA HKPR's Mental Health Week Celebrations. On May 12, participants are encouraged to bring their pledges to the store and hop on a stationary bike provided by Kawartha Fitness to show their support for mental health. There will be prizes for top fundraisers at the Bike-A-Thon. No need to pre-register, simply download your pledge form at https://cmhahkpr.ca/events/ride-dont-hide-2018/ and bring donations to Leon's by 2:30 p.m. on May 12. Any funds raised and turned in at the May 12 will count towards June 24 Riders total pledges!
Lastly, bike need a spring check-up? Join us at Peterborough Community B!KE Shop, 293 George Street on June 2nd for a free ABC Check up.
Other event supporters include Diamond Sponsors Corus Entertainment's Wolf 101.5, Chex Peterborough, Fresh Radio 100.5 and The Peterborough Examiner; Silver Sponsor AON Inc.; and Bronze Sponsors Brant Basics; Rotary Club of Peterborough-Kawartha.
For event details, visit ridedonthide.com/on/ride/peterborough/ 
For further information, please contact Kerri Davies, Manager of Community Engagement, 705-748-6687 extension 1048 kdavies@cmhahkpr.ca.