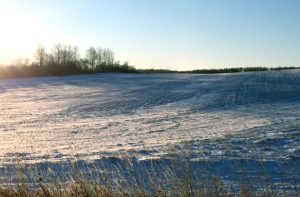 by Tanya Kowalenko, Educator
Fireplaces, hot chocolate, skating, snowball fights, cozying up with a book, watching a movie with loved ones, tobogganing….
These are some of the things that might come to mind when the days turn cold and dark.
For some people, however, this time of year brings with it a feeling of dread, especially for those suffering from Seasonal Affective Disorder (SAD), or a milder form of SAD often called the 'winter blues.'
But, you might be asking yourself, "Is SAD really a 'thing'? Don't most people feel a little lethargic and low in the winter in Canada?"
While some of the symptoms of SAD, such as lower energy, increased appetite and sadness can be a normal part of the seasonal cycle for many people, for those with SAD, the experience is of higher severity and can significantly interfere with their ability to function. They are unable to 'just deal with it.'
Few people deny that depression is a 'real thing.' Well, SAD is no different than major depressive disorder, except that it follows a seasonal pattern, most often starting in the fall/winter and subsiding completely when the days start to get longer in the spring , known as winter-type  SAD. As with depression, people with SAD often experience sadness and irritability, significant low energy and fatigue, loss of interest/pleasure in normally-enjoyed activities, difficulty concentrating and making decisions, decreased activity levels, significant changes in appetite and sleeping, social withdrawal and even thoughts of death or suicide.
Winter-type SAD sufferers in particular often report sleeping longer than normal, having strong cravings for carbohydrates, overeating, excessive fatigue and weight gain.
People who live far north or south of the equator are at a higher risk of SAD. In Canada, 15% of the population experience the winter blues and 2-6% SAD. Younger adults, people with a personal or family history of depression or bipolar and females are at a higher risk of developing SAD.
While the underlying cause(s) of SAD are unknown and are likely a complex interplay of factors, research suggests that people experiencing SAD might have difficultly regulating serotonin (the 'feel good' chemical), may overproduce melatonin (a hormone that helps regulate the sleep cycle), and may not produce enough vitamin D.
What can you do?
If you suspect that you or a loved is experiencing SAD, seek the help of a trained medical professional. It is important to rule out other medical conditions that may be causing your symptoms. You can also find support through the Canadian Mental Health Association, Haliburton, Kawartha Pine Ridge branch.
There are four major types of treatment for SAD:
Light therapy
Psychotherapy
Medication
Lifestyle changes
Your health professional will work with you to find the right combination of treatment options for your unique circumstances.
If you are having suicidal thoughts, consult a doctor immediately, call Four County Crisis (1-866-995-9933) or visit your nearest emergency room.
In addition to seeing your health care provider and engaging in treatment, there are also many things you can do to support your mental well-being in the winter, whether or not you experience SAD.
Stay on a regular sleep/wake schedule. This can help you to stay more alert and less fatigued.
Move your body in an enjoyable way. Find movement that is appropriate for your age and fitness level, make small achievable goals and above all, make sure it's something that gives you joy.
Bundle up and get outside. Even when it's cloudy, you can still benefit from natural light. Being in nature is a bonus
Spend time with people you love.
Laughter is great medicine. Carve out time for some silly-ness
Do something creative. Whether that's drawing, writing, painting, or making holiday crafts, it can help you to 'get in the flow' and out of negative self-talk.
Make and eat enjoyable and nourishing food.
Prepare for winter by setting up some supports in advance.
Find a window seat. Sit near at window at home or the office when possible to reap the benefits of some natural light.
Minimize stress – try out a meditation class, avoid overbooking your schedule, allow yourself some downtime.
Doing positive things for our mental/physical health and wellbeing can sometimes be difficult. We acknowledge this and encourage you to seek support, focus on what you are able to do and explore what options are most supportive for you…celebrating the small gains.
For more information about SAD, check out the following resources: