by Tanya Kowalenko, Educator and Kids on the Block Coordinator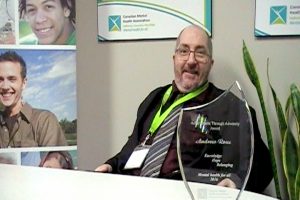 At our 2016 Annual General Meeting Andrew, a client of C.M.H.A. H.K.P.R., was presented with the "Achievement through Adversity Award." This award was in honour of his courage and tenacity to reach his goals and his determination to be a role model to others. His story was also published in our 2016 Annual Report. He has since been actively sharing his story with anyone who might benefit.
Andrew has struggled with anxiety and stress, financial troubles, intellectual and learning disabilities as well as drug and alcohol abuse. He has been an active participant in his recovery and has accomplished a lot along the way. Andrew has been a client of C.M.H.A. H.K.P.R. since 2004 and has accessed many of our services including:  Case Management, Supportive Housing and the Trustee Program. Click here to read his full story.
We often hear about the benefits of sharing one's story with others and so we wanted to catch up with Andrew two years later to find out how life has been for him since doing that, and what the impact has been on his recovery.
As soon as Andrew walks into the room, I can feel his excitement and openness. He takes time to get comfortable and we ease our way into conversation. I am moved by his contagious sense of humour, his positivity, his immense gratitude and his passion for being of service to others.
When I ask him what motivates him to share his story, he tells me that being of service to others, empowering them with strength and hope, in turn bolsters these feelings within himself.
He knows first hand that recovery "is not easy, and it's worth it," and wants to help people find the hope and courage to stick with it. He knows it gets better and the pay-offs are worth the effort.
"How has it been worth it for you?" I ask.
This is what he tells me…
I feel much healthier
I am more 'myself'
I have less negative thoughts
I can be an inspiration for others
I have a new sense of security
I feel good about the way I am living my life
I have developed skills for coping with anxiety and have increased my ability to handle it when it arises
I have a newfound sense of freedom
I experience less shame
I feel more positive about life
I surround myself now with healthier people and feel part of a community
I've learned how to be more assertive, take time for myself and have been developing patience and the ability to stay in the 'now'
Wow.
Of course, the road of recovery is not a straight line, there are many bumps and curveballs along the way, and each person's story will be different, but "it can be done," he tells me.
"You love inspiring others," I say "but what inspires you? What keeps you going?"
He shares with me many ways he continues to improve and maintain his mental health and that give him strength and hope, here are some of the highlights…
Being positive
Self-care
Getting support – from professionals, friends and family
Being gentle towards myself
Being of service to others
Going to AA and NA meetings and working with my sponsor
Taking it one day at a time
Staying present
Lastly, I ask him, 'If you were to describe your past two in three words, what would they be?"
Now, this is not an easy task, to condense two years into three words, but after a little exploration and sharing, his words became very clear and strong….
"awesome, hope and change"
Sitting with Andrew and hearing him say these words with pride and a big smile on his face, knowing it hasn't been an easy road, I feel inspired and moved, and definitely more hopeful than when I started my day.
And this is power of sharing our stories.
So let's keep sharing and listening to each other's stories. Let us be inspired and gain strength from each other's courage, strength and hope. In difficult times, we can gain strength from knowing that we are not alone and that others have indeed gone before us. We can learn from their wisdom and build hope by seeing where they are now.
Of course, sharing is a personal choice and you need to decide for yourself when and with whom you feel comfortable doing so.
We at C.M.H.A. H.K.P.R. are so very grateful to Andrew for sharing his story with us and for giving us the gift of being able to share it with you.
Andrew would like to thank all of those who have supported him along the way, especially those at C.M.H.A. H.K.P.R., Fourcast, The VON 360 Clinic, Westmount Pharmacy, the Health Unit, P.R.H.C., his psychiatrist, friends and family.
Andrew's Video Message