You are currently on the:
CMHA National
Visit our provincial websites
Help for Myself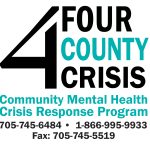 If you need to talk with someone right now, call Four County Crisis at 705-745-6484 or toll-free 1-866-995-9933
Four County Crisis is there to help 24/7 with free, confidential mental health crisis support. This support is available to anyone 16 or older in Peterborough, Northumberland or Haliburton counties, or the City of Kawartha Lakes. You can call the Crisis team yourself or you can be referred by community partners.
I need help regarding: