You are currently on the:
CMHA National
Visit our provincial websites
Four County Crisis
Mar 20, 2023
If you are in crisis please call 705-745-6484 or toll-free 1-866-995-9933. By phoning these numbers, you can access 24-hour, free, confidential crisis support.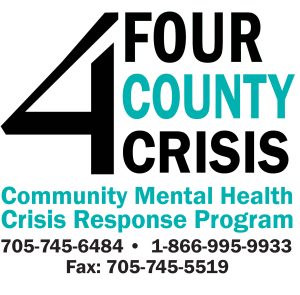 What is a crisis?
We often think of crisis as a sudden unexpected disaster such as a car accident, natural disaster or other tragic events. The crisis is often determined by the person's view of any event and their reaction to it.
If a person faces a problem by relying on his or her familiar methods of problem solving but those methods do not work or the person's support system is down, the person can be faced with a sense of being overwhelmed and may not know how to resolve the situation.
A crisis is a point in time when a change for the better or a change for the worse happens. The turning point can be when the situation can move toward growth and improvement, or move toward despair and decline.
A crisis can be a predictable part of the life cycle. Situational crises are sudden and unexpected but personal crises are inner conflicts related to things such as life purpose, direction and spirituality. A crisis is so individual, that in the same set of circumstances, one person might be deeply affected, whilst another person suffers little or no effect.
The stress of a crisis upsets the balance between thoughts, feelings and behaviours. The hope is that with support, the balance can be restored.
What do we do?
Four County Crisis provides a continuum of comprehensive crisis response services to individuals with a serious mental illness, mental health concerns, and individuals in crisis. Crisis support is available to individuals sixteen years of age or older in the counties of: Peterborough, City of Kawartha Lakes, Northumberland and Haliburton.
Individuals can contact the Crisis team themselves to access services or can be referred by community partners.
Four County Crisis Referral Form
Note: If you have a concern, please see our Complaints and Concerns page or contact the program manager, Deb Sandeman.