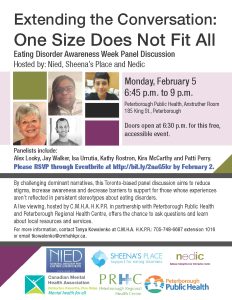 The Canadian Mental Health Association, Haliburton, Kawartha, Pine Ridge (C.M.H.A.  H.K.P.R.)  is hosting a live viewing of the panel discussion "Extending the Conversation: One Size Does NOT Fit All", February 5th at 6:45 – 9:00 p.m., in recognition of Eating Disorder Awareness Week (E.D.A.W.). The live panel discussion, which takes place in Toronto, is hosted and moderated by the National Eating Disorder Information Centre, Sheena's Place and the National Initiative for Eating Disorders. The event will be broadcast live at Peterborough Public Health (P.P.H.) in partnership with PPH and The Women's Health Care Centre of P.R.H.C. The panel event has been sponsored by Sheena's Place, National Institute for Eating Disorders and the National Eating Disorder Information Centre
Attendees will be able to send questions to the panel and have them answered during the event. There will also be an opportunity for attendees to learn about services and resources for people living with eating disorders in our community.
Focusing on the E.D.A.W. theme of One Size Does NOT Fit All, the discussion aims to challenge the dominant narratives about eating disorders in order to reduce stigma, increase awareness that eating disorders can affect anyone, and reduce barriers to accessing support for individuals whose experiences are not reflected in persistent stereotypes about eating disorders.
Featured Panelists:
Alex Looky is a nerdy queer, African, black identified woman and bundle of joy who is a survivor of her eating disorder.
Isa Urrutia is a fourth year Mexican-Canadian doctoral candidate in Human Geography at the University of Toronto.
Jay Walker has worked in the health and fitness industry for 8 years and he has been an advocate for those suffering from eating and exercise disorders since opening up about and overcoming his own previous struggles with these issues.
Kathy Rostron, at age 62, has spent the majority of her adult life self-employed in a family business. Having struggled with Binge Eating Disorder for more than 20 years, she is currently in recovery. As well, she is the mother of a young woman who struggles with anorexia.
Kira McCarthy is a Special Education Teacher, Artist, Writer, and Eating Disorder Advocate. She has been in recovery for 4 years, and continues to benefit from on-going support at Sheena's Place.
Patti Perry R.N., M.S.N. is a Clinical Nurse Specialist and Nurse Psychotherapist who has worked with disordered eating and eating disorders for over 40 years.
This event is FREE, fully accessible, and all are welcome! Snacks and water will be served. Register today at Eventbrite: http://bit.ly/2naG5kr
For more information, contact Tanya Kowalenko 705-748-6687 extension 1016 at C.M.H.A. H.K.P.R.