The Canadian Mental Health Association Haliburton, Kawartha, Pine Ridge (C.M.H.A. H.K.P.R.) invites the public #GetReal and celebrate Mental Health Week from May 4 through May 10, 2020.
Every May, people in Canadian communities, schools, workplaces and legislatures rally around Mental Health Week. The annual event helps shift societal beliefs and perceptions about mental health. It promotes behaviours and attitudes that foster well-being, support good mental health and create a culture of understanding and acceptance. To respect physical distancing measures, all Mental Health Week events will be celebrated virtually.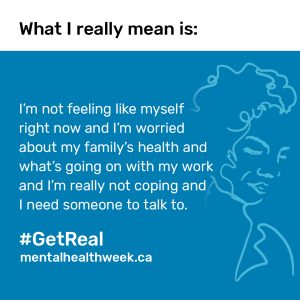 Across the country, branches of the Canadian Mental Health Association will be embracing the theme of social connection for this year's Mental Health Week, recognizing that connecting with other people doesn't just feel good, it's good for our mental health.
"We know that social connection helps us feel close and connected to others, regardless of physical proximity. We also know isolation and loneliness can have a negative impact on mental health," says Jack Veitch, Manager of Community Engagement and Education for C.M.H.A. H.K.P.R.
This year for Mental Health Week, C.M.H.A. H.K.P.R. wants to help people reach a new level of social connection, which is particularly important given the increased physical isolation so many are facing.
While it is common in our society to ask people how they are, it's also common for folks not to provide – or expect – a truthful answer. The stigma surrounding mental health concerns, although perhaps not as prevalent as it previously was, can still make it difficult for us to be forthright.
"It's common for people to say they're fine, even when they don't mean it. Every time we simply go through the motions, we miss a chance to connect with others in a meaningful way," says Veitch, noting he hopes everyone will take the time to consider their feelings and express them honestly.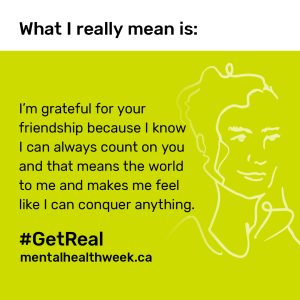 He also hopes the friends, coworkers and loved ones of those who are struggling will take the time to support their peers however necessary. This could mean sincerely listening and validating their feelings, finding appropriate professional services, or simply making the effort to check in on a regular basis.
"If we're going to ask people to be honest about their feelings, it's important we are supportive in our responses. Often, that might include sharing information about accessing local resources, such as C.M.H.A. H.K.P.R. programming or even our Four County Crisis line," Veitch adds.
To learn more about services and programming available through C.M.H.A. H.K.P.R., visit www.cmhahkpr.ca/programs-and-services, email info@cmhahkpr.ca or call 705-748-6711.
Those struggling with their mental health and in need of someone to talk to urgently can call Four County Crisis at 705-745-6484 or toll-free at 1-866-995-9933.
Virtual Mental Health Week Events
As part of Mental Health Week, C.M.H.A. H.K.P.R. will be sharing various resources online as well as hosting virtual events, as scheduled below:
Tuesday, May 5: Watch for our new blog post about virtual supports
Wednesday, May 6: Virtual meditation with Andrew Jobes at 1:15pm on Facebook Live through @BalanceAtWorkCa
Thursday, May 7: Video release – How can you support your loved one?
Friday, May 8: Live from Instagram (10:30 a.m.) and Facebook (11 a.m.), helping you help others with their mental health
Visit www.mentalhealthweek.ca for info and tools about Mental Health Week. Connect with us on social media (@cmhahkpr) using the hashtags #GetReal and #MentalHealthWeek.