The Canadian Mental Health Association of Haliburton, Kawartha, Pine Ridge, (C.M.H.A.  H.K.P.R.) along with Bell Let's Talk invites you to join in the growing global conversation about mental health. On January 31st, talk, text, tweet to fight the stigma of mental illness and help grow Bell's funding towards Canadian's mental health initiatives.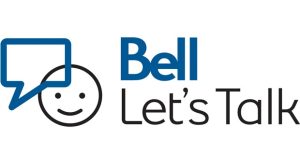 Bell continues to invest in our communities, extending their commitment, with a planned total funding of at least $100 million, supporting over 700 organizations across Canada! Our local C.M.H.A.  H.K.P.R. has been a multiple beneficiary of community grants including support to the "Partner's In Education" program with the Peterborough Petes, incorporating Kids on the Block puppet shows to elementary school children with important positive mental health messages.
Bell Let's Talk's Five simple ways to fight the stigma of mental illness are:
Language matters – pay attention to the words you use
Educate yourself – learn, know and talk more – understand the signs when someone needs help and consider education offered through C.M.H.A.  H.K.P.R., including workplace mental health education, Mental Health First Aid and suicide prevention training. For further information contact jveitch@cmhahkpr.ca or 705-748-6687 ext. 1015
Be kind – small acts of kindness to someone struggling, help a lot
Listen and ask – sometimes it's best to just listen
Talk about it – start a dialogue, break the silence!
Locally, C.M.H.A.  H.K.P.R. will be involved in a number of events on Bell Let's Talk Day, January 31st including:
1130-400 Trent University will host "Trent Let's Talk", a mental health fair followed by a panel discussion from 4-6 including Tanya Kowalenko, C.M.H.A's Educator and Kids on the Block Coordinator. For more information see:https://www.facebook.com/events/140513583409713/
January 23 to January 31st – Salon Sorella, Lakefield will be fundraising for C.M.H.A.  H.K.P.R., inspired by Bell Let's Talk Day (see poster attached)
6:45 p.m. Fleming College, Brealey Campus will be celebrating Bell Let's Talk prior to the start of the Fleming Knights Basketball Game at 7:00.
Join the conversation online on January 31st and:
For every text message sent by Bell Canada, Bell Aliant and Bell MTS customers, Bell will donate 5¢ towards mental health initiatives. Don't forget to include #BellLetsTalk and @BellLetsTalk and @cmhahkpr!
Visit the Bell Let's Talk website for stories, tips and a tool kit for you to get engaged in the Bell Let's Talk movement https://letstalk.bell.ca/en/bell-lets-talk-day
– 30 –
For media interviews or more information please contact Kerri Davies, Manager of Community Engagement C.M.H.A.  H.K.P.R. at 705-957-5011 cell or 705-748-6687 ext. 1048 or kdavies@cmhahkpr.ca