T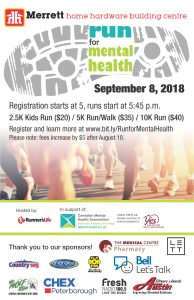 he Canadian Mental Health Association, Haliburton, Kawartha, Pine Ridge (CMHA HKPR) is pleased to announce the 3rd Annual Merrett Home Hardware "Run for Mental Health" taking place September 8, 2018  – 5:00 p.m. check in, event starts at 5:45 – at Runner's Life – 174 Charlotte Street, Peterborough.
Dave Dame of Runner's Life is the host of the event. Dave states, "We are pleased to welcome back Merrett Home Hardware as the title sponsor, Medical Centre Pharmacy again as the Gold Sponsor and Bronze sponsors Lett Architects and Austin Trophies. As well, we are very thankful for the support of our Corus Entertainment sponsors Wolf101.5, CHEX and FreshRadio100.5 and Bell media sponsors Country 105, Energy 99.7 and 91.9 BobFM." CMHA HKPR is pleased to donate a portion of the proceeds of the event to the YES Shelter for Youth and Families.
The event takes place in downtown Peterborough on Saturday, Sept. 8 at Runner's Life, with a route along Charlotte, George, Aylmer and Rink streets to create a 2.5 km loop. The Run will include a 2.5 Kids walk/run and 5 km walk/run and a 10 km run. Music will be a new addition to the route, with the plan to include a live band at each corner of the run!
Those who register before July 3 can enter promo code "runptbo" for a 10% discount.
Since 2016, over $32,000 has been raised from this event to support the funding of a Family Education Support Worker, as part of CMHA's Assertive Outreach for Suicide Prevention (AOSP) Program.
Program Manager Tracy Graham was at the press conference to share the impact of the AOSP Program, which has supported over 100 vulnerable individuals, each who have made a serious suicide attempt. Our Family Education Support Worker has connected with dozens of their family members to enhance the support of their loved one following discharge from the hospital. We know that a person who has made a suicide attempt is at risk to attempt again within the first few weeks after discharge. Through AOSP, support is enhanced for the individual and their family, leading to better and safer outcomes for everyone. This program saves lives and we have the community to thank for that.
A team, "Team Brett", has been established in memory of a young man from the area who died by suicide. In his honour, Brett's family and friends have donated $1902 to the Run for Mental Health, officially kicking off the fundraising aspect of this year's event. We are grateful for their support and encourage the public to donate to Team Brett by following this link: http://runformentalhealth.itsyourrace.com/donate/team/TeamBrett
Runners Julie Vallieres and Eileen Kimmett shared personal insights on the importance of physical activity and the maintenance of good mental health at the press conference and will be participating in the September 8 event.
For further information on registration, please visit https://runformentalhealth.itsyourrace.com/register/ or contact Dave Dame at Runner's Life at 705-876-8960. You can also contact Jack Veitch, Manager of Community Engagement and Education at 705-748-6687 extension 1015 jveitch@cmhahkpr.ca.