Location Map:
November 21, 2018 to November 22, 2018
9:00 am to 3:00 pm
Ross Memorial Hospital
10 Angeline St N,
Lindsay, Ontario
K9V 5B7
Canada
Add to Calendar (iCal) Add to Google Calendar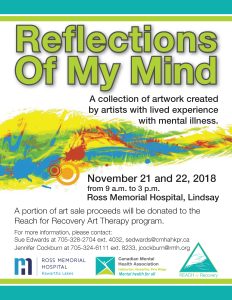 On November 21 and 22, 2018, you're invited to Reflections of My Mind, a collection of artwork created by artists with lived experience with mental illness.
The art show runs from 9 a.m. to 3 p.m. at Ross Memorial Hospital in Lindsay.
A portion of art sale proceeds will be donated to the REACH for Recovery Art Therapy program.
For more information, please contact Sue Edwards at 705-328-2704 extension 4032 or by email at sedwards@cmhahkpr.ca. You can also contact Jennifer Cockburn at 705-324-6111 extension 8233 or by email at jcockburn@rmh.org.