Location Map:
January 22, 2019
10:00 am to 12:00 pm
Canadian Mental Health Association, Haliburton, Kawartha, Pine Ridge
466 George Street
Peterborough, Ontario
K9H 3R7
Canada
Add to Calendar (iCal) Add to Google Calendar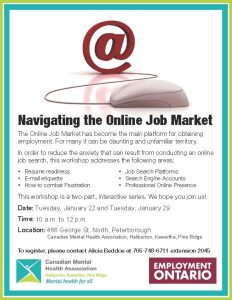 On January 22 and 29, our Employment Supports team is hosting workshops to help you navigate the online job market.
The Online Job Market has become the main platform for obtaining employment. For many it can be daunting and unfamiliar territory.
In order to reduce the anxiety that can result from conducting an online job search, this workshop addresses the following areas:
Resume readiness
E-mail etiquette
How to combat Frustration
Job Search Platforms
Search Engine Accounts
Professional Online Presence
This workshop is a two-part, interactive series. We hope you join us!
Contact Alicia Beddoe at 705-748-6711 extension 2045 to register.